No, This is Not A Blog By Wilson Rawls.  Yes, Wilson Rawls Is A Poet And Not A Sporting Goods Company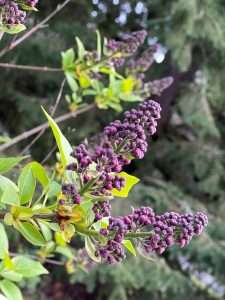 Three Freaking Weeks
I had been looking forward to them all year.  I am not talking about political attack ads.
I am talking about our lilacs.  Last year, I finally discovered what these tiny lavender-colored flowers were that were putting out all the good smells around our property.  While I can identify a flower when I see one, if held at gunpoint and forced to identify which flower it is, then I bid you a very fond farewell.  I am the same way with twins.
I had no idea at the time, but I would go on to find that there are not one, but five lilac bushes around our four-acre property, all utterly fragrant when in bloom, and dotting our grounds with a color that is very similar to, well, lilac.
Come mid-May, our lilacs exploded in bloom.  It was absolutely beautiful, and utterly fragrant, so much so that I was forced to create a sentence with the words "utterly fragrant."  They complement our property with a beautiful addition to our color palette, which includes all the other flowers we have around our estate:
Camellia, roses, tulips, and doublefile viburnum.
Iris, lupine, delphinium, and coreopsis.
Black-eyed Susans, echinacea, rhododendrons, daisies, and honeysuckle.
Weigela, Japanese spirea, and peonies.
Poppies, azaleas and beautybush.
None of those mean anything to me of course, but in these blogs I need to sound intelligent.  Thank you to my neighbor Roland who is an expert landscape architect and who was able to identify my clumsy garden pictures for a small fee.
And out in the orchard!  Apple, cherry, pear, and plum trees waiting to explode in color and taste! Our son Asher likes to eat all the apples, so those trees are routinely naked.  When Asher does not get them, the deer do.  Or the squirrels.  Or the rabbits.  Or Asher.
But how did I not know that we had so many lilacs on our property?  Well, keep in mind this home is new to us as of August 2020, and we are still finding our way down here, which is another way of saying that I am still navigating according to the nearest known locations of Taco Bell and Safeway.
However, after all the anticipation and the realization and the joy…inevitably, came the sadness. Lilacs do not fare well in the Northwest's fickle climate, and they usually fizzle out after only 3 short weeks, transforming into crackly brown husks that eventually fall to the ground and are blown away in the strong southerly winds.
It truly is a bummer to see them go, and though we harvested a few of them to bless our house, flowing like an undercurrent below all that joy and fragrance is the sad knowledge that we will be without them for another 49 weeks.  Not because Asher ate them though.
Peace Wherever Our Prison
Thoreau said, "Heaven is under our feet as well as over our heads."  And "Leave the road, take the trails" uttered Pythagoras.  Andy Warhol chimed in "Land really is the best art."  Gretel Ehrlich said "Everything in nature invites us constantly to be what we are."  And finally, Dodger said to the Garbage Pail Kids, "I don't think you're ugly, exactly."
I am fond of often referring to J.R.R. Tolkien.  If you want to read the works of an environmentalist who was utterly taken aback by the wonder of nature and was fond of describing it in rich detail, pick up a copy of The Lord of the Rings.  Tolkien goes to great lengths and leaves no green mossy stone unturned to reveal the secrets underneath.
I don't mention all this as preface that we should go buy our Woodstock tickets and light up a doobie.  Nor am I a licensed tree hugger.  Nor do I frequent the ganja stores that now number in the thousands across our green globe, man, so hang loose.
The truth, however, is that this voiceover life can sometimes be a bit much.  It is hard to fund your dreams with money from voiceovers without money from voiceovers.  As such, expect pressure to mount.  Expect stress to build up.  And what do we do when pressure and stress mount and we need an outlet?  We explode, like a giant exploding thing that explodes.  I am a god at metaphors.
We voiceover entrepreneurs market. We audition. We put ourselves out on the chopping block day in and day out, over and over, rinse and repeat, ad infinitum, ad nauseum.  It is a truly vulnerable act of becoming naked.  Rinse and repeat.  We run the rat race.
It is enough to truly overwhelm and drown out all the artistic beauty within us.
Before that happens, take time to get out and breathe.  Untether.  Decouple.  Breathe.
Smell the lilacs.  "Gather ye rosebuds while ye may," said another nature lover.
In a previous blog, I covered this: maybe Depeche Mode had it right all along.  "Enjoy the Silence."  There is truly something to be said for laying down and taking in green instead of cold, black cardioid, foam, and blue LED's.  Otherwise, your career itself could be like the lilac: here one day, gone three short weeks later, because you lived in a fickle climate and you did not have roots to last.  You didn't get in the right weather, and you allowed the elements to beat you down.
As for my family, we live in a beautiful place where the beautiful lilac grows, just outside my beautiful voiceover studio.  But no matter what kind of beauty I generate within these walls, it pales in comparison to the beauty growing on those trees outside.
Smell the lilacs.
I never thought that I, a city guy, would want to wear cowboy hats and tight Levi jeans with boots, and if you try to put any of that on me, I will cut you.  But the truth is that I do love me some country.  I realize with each spring and summer (and fall and winter) that we moved to the best place possible for our health.
I challenge you, today, to sort of make like Vanilla Ice: stop collaborating…and listen.  Go outside.  Listen.  And if you can't – either because you are in the big city or you are incarcerated, in which case how are you reading this and I am calling your probation officer – then play this on a loop, and tell me your day didn't just get a little more peaceful.
Unless of course you actually are incarcerated.  In which case please say hi to the big hairy brute behind you for all of us.  Does he like lilac?  Asking for an inmate.
=============
YOU HAVE MADE IT ALL THE WAY TO THE END, AND I SALUTE YOU.
Like this blog?  My children are counting on you to put bread on our table through the purchase of one of my books.  Do it for the children.
If you would prefer not to purchase one of my books but instead hurl large wads of cash at me, please know that I do not refuse such cash gifts if it means I can pretend I am a church
Check out my whole UNIVERSE of blogs right HERE!
This is a fourth bullet point.
AND HEY!  WAIT JUST A S.E.C.!
S-UBSCRIBE & S-HARE!: If you enjoyed this blog, please consider subscribing and sharing with friends and family, and encouraging them to subscribe and share.  Offer treats for doing so.
E-NCOURAGE: Go encourage someone else today with a single, simple sentence of affirmation.  Tell them, "I like your earrings", unless of course they are manly men, in which case you should compliment them on the size of their chainsaw.
C-OMMENT: I want to hear from you.  Please feel free to comment below!  Comments with lots of "You're wonderful" or "You're the best" will receive instant approval and acclaim.
Need a voiceover?  Request a quote today or visit my Demo Reel. Or subscribe.  Or do other things.
Joshua Alexander
Seattle Voice Actor & Voiceover Artist for hire
josh@supervoiceover.com
206.672.6200 / 360.339.1900