GOT VOICEOVER DOCS?
Introduction
Hey.  I was just like you at one point, and I needed to get ahold of templates to help me hit the ground running.
Well...here we are.  I've spent at least a decade refining some of these documents, and they're living documents to me, because they've grown and evolved as the years have gone on.  I'm actually asked for these a lot.  They help me run my Voiceover business well, and I know they'll give you the start you need to get yours running equally well.  These documents are exactly what I use in my day-to-day dealings with direct clients.
Some documents contained herein are templates, some are examples, and some are inspirational...because...what the heck...I like to inspire.
For the price of $50, you can get ahold of a .zip file download for yourself that contains the following:
Customizable Microsoft Word Address Labels Doc
Customizable Microsoft Word Contract Master Doc WITH around 30 legal clauses that protect your audio interests and business operations
Customizable Microsoft Word Invoice Master Doc
Voiceover Resume Example Doc
Voiceover Services Warranty Example Doc
Business Letterhead Examples
Customizable Microsoft Word Statement Master Doc
Customizable Microsoft Excel Weekly Goals Tracking Sheet
SIX Marketing Message Templates
Agents Listings
"The Business of Voiceovers" E-Book (from Josh's book, "Voiceovers: A Super Business ∙ A Super Life") - a 24 page blockbuster loaded with business insight
Comprehensive Workshop Presentations from Josh's previous workshops entitled
"Fast Forward to a successful career in Voiceovers August 2019" (15 pages)
"SEO & Marketing November 2018" (14 pages)
"Starting out in Voiceovers January 2019" (15 pages), and
"The Business of Voiceovers April 2019" (16 pages)
Here are some screenshots from some of the documents you'll receive, fully customizable by you: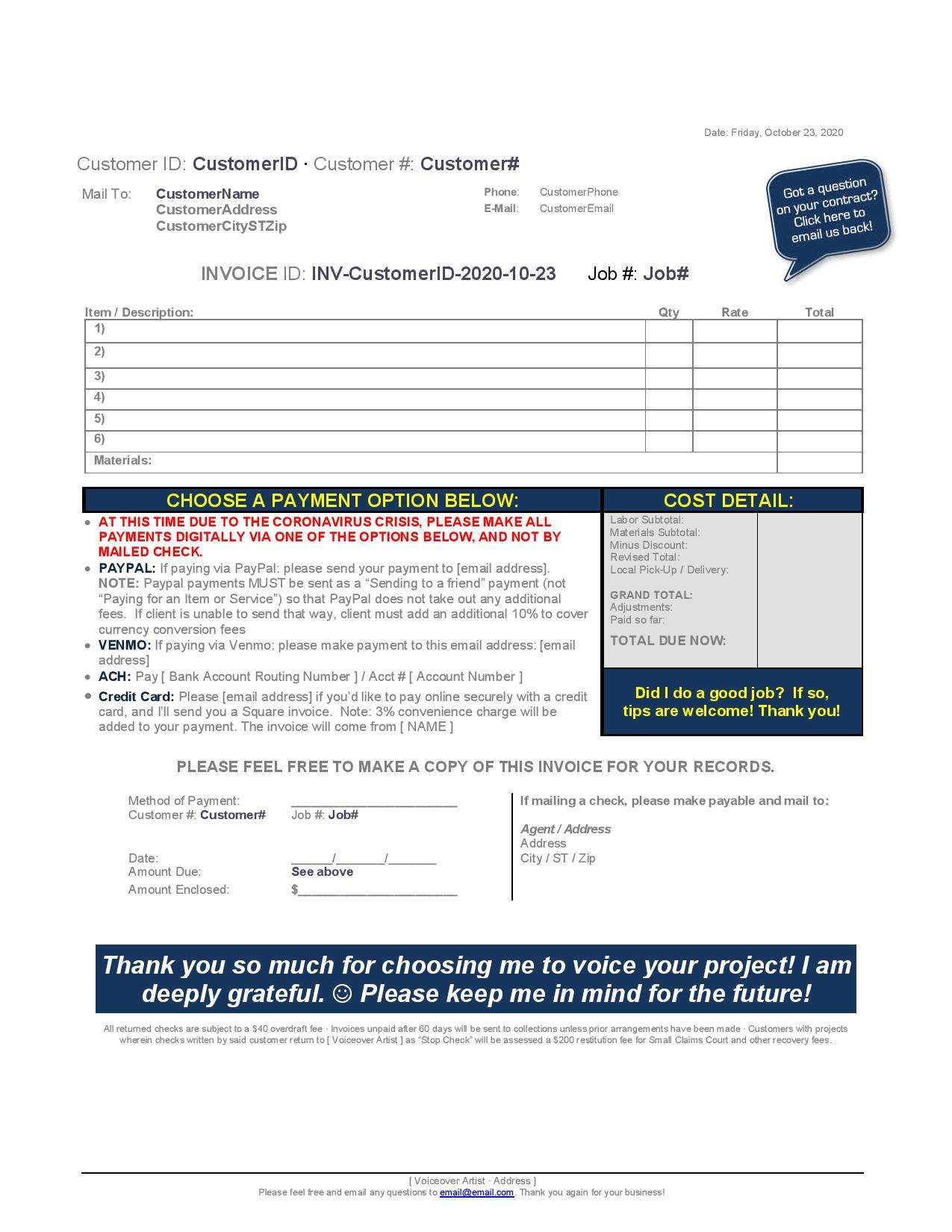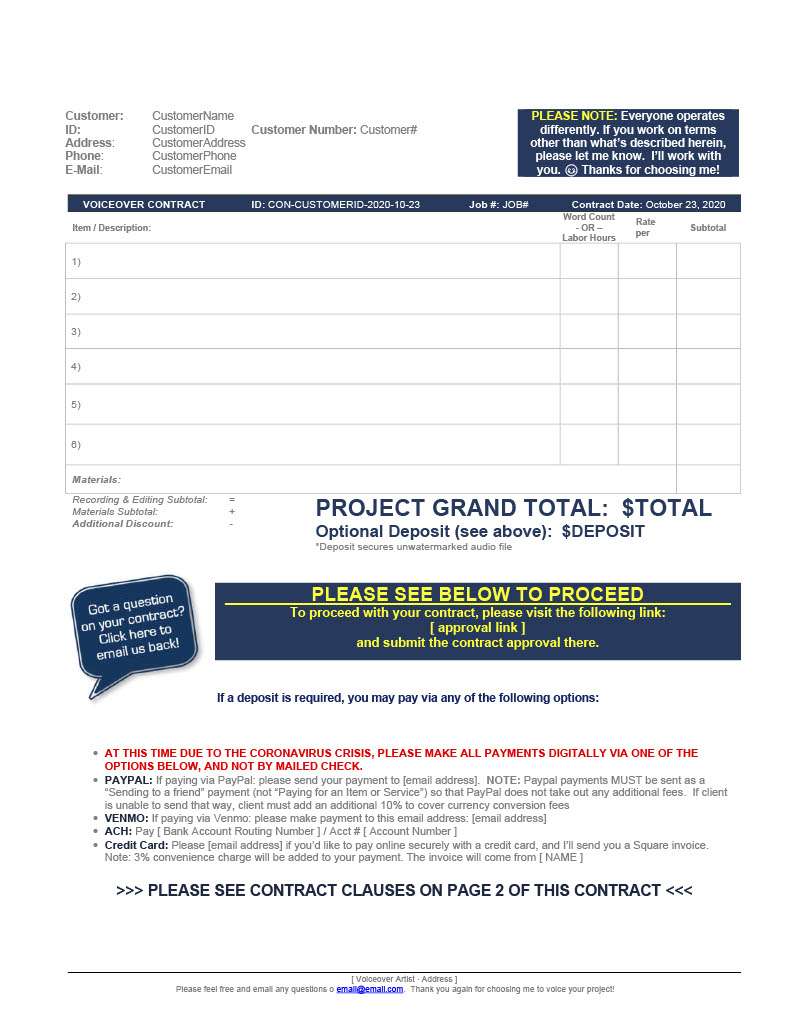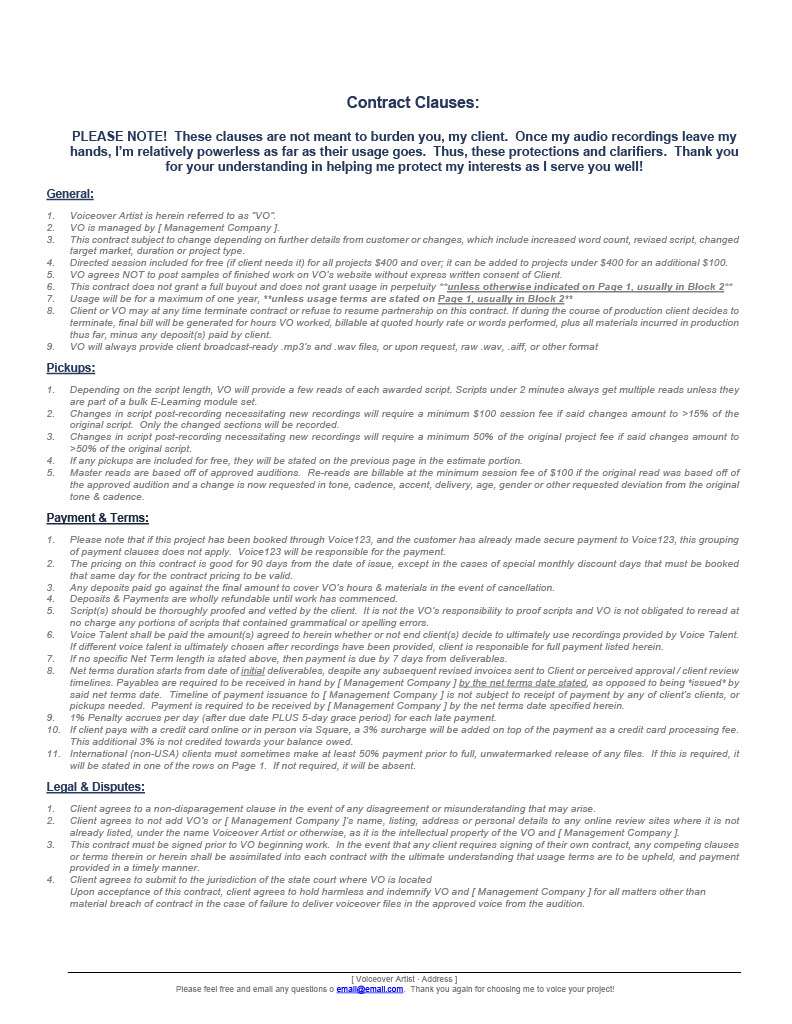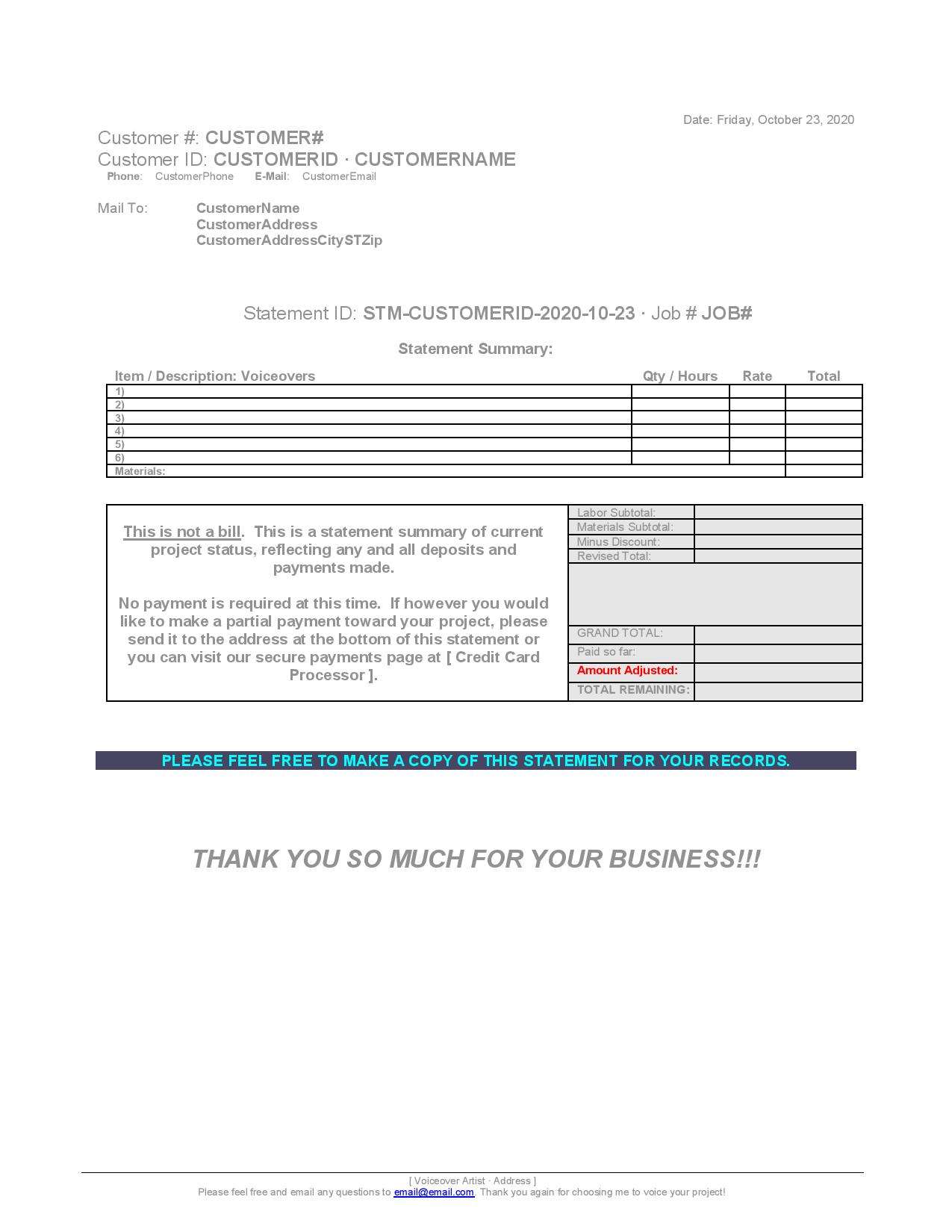 How to Buy Super Voiceover Docs
You can email me with any questions, or click below to order.
RESOURCES: Super VO Docs
$50.00
Why do you need these?  Because quite simply they'll allow you to customize them with your own logo and/or letterhead, and have a professional representation to put out there to clients.  Coupled with my E-Book on "The Business of Voiceovers", you'll be equipped with some great knowledge to soup up your VO business in terms of professionalism.
#youcandothis
Reviews
"I bought them and highly recommend them!"
- TJ Bennett, Voice Talent
"I have mine and they are great!"
- Jason Thomsen, Voice Talent
"Love these! Life changing docs!"
- Christina Aguinaga, Voice Talent
"I've found these to be super helpful (no pun intended), super reasonable price (seriously), so if you're on the fence, get them."
- Storm Watters, Voice Talent
"Love it! I'm about to launch the next phase of my business and put them to good use."
- Isabella Tugman, Voice Talent
"I just gotta give a shout-out to Josh Alexander for his Super Voice-Over Docs. It scared to crap out of me to think of how I was going to do invoices. I ran across these and decided to get them, and good grief, the $30.00 is worth every penny. Prolly could be tipped another $30.00 in my opinion. If your looking for something that will give you a solid foundation from letterheads, goal tracking, invoicing, marketing templates and the whole nine yards. Do yourself and favor and get this. It's great for those starting out."
- John Simmons, Voice Talent
"Hi, all! I don't know about you all, but I spent a lot of time searching for solid voiceover contracts and invoice templates. I found Josh's voiceover docs and I've not only been immensely happy with them, I have received complements from a few clients citing their professionalism. Not to mention, the terms in there are really helpful for the VO (and the client). Josh, were they written by a lawyer? This isn't a paid testimonial by any means. I just wanted to share this because these documents are now an asset to my business (and Josh has been an awesome mentor for me and so many others). There are other goodies in the package. If you're just starting out or using a blank contract template you're not happy with, check it out."
- Reid Montague, Voice Talent
"Yes, these are extremely helpful, and so is Josh!  These documents are really super."
- Theresa C. Ho, Voice Talent
"I got the Josh Alexander SuperVo Docs, and currently using the Contract template for a potential client! So worth it, thank you Josh!"
- Jennifer Allton, Voice Talent