GOT VOICEOVER DOCS?
Introduction
Hey.  I was just like you at one point, and I needed to get ahold of templates to help me hit the ground running.
Well...here we are.  I've spent at least a decade refining some of these documents, and they're living documents to me, because they've grown and evolved as the years have gone on.  I'm actually asked for these a lot.  They help me run my Voiceover business well, and I know they'll give you the start you need to get yours running equally well.  These documents are exactly what I use in my day-to-day dealings with direct clients.
Some documents contained herein are templates, some are examples, and some are inspirational...because...what the heck...I like to inspire.
For the price of $40, you can get ahold of a .zip file download for yourself that contains the following:
Customizable Microsoft Word Address Labels Doc
Customizable Microsoft Word Contract Master Doc WITH around 30 legal clauses that protect your audio interests and business operations
Customizable Microsoft Word Invoice Master Doc
Voiceover Resume Example Doc
Voiceover Services Warranty Example Doc
Business Letterhead Examples
Customizable Microsoft Word Statement Master Doc
Customizable Microsoft Excel Weekly Goals Tracking Sheet
SIX Marketing Message Templates
Agents Listings
"The Business of Voiceovers" E-Book (from Josh's book, "Voiceovers: A Super Business ∙ A Super Life") - a 24 page blockbuster loaded with business insight
Comprehensive Workshop Presentations from Josh's previous workshops entitled
"Fast Forward to a successful career in Voiceovers August 2019" (15 pages)
"SEO & Marketing November 2018" (14 pages)
"Starting out in Voiceovers January 2019" (15 pages), and
"The Business of Voiceovers April 2019" (16 pages)
Here are some screenshots from some of the documents you'll receive, fully customizable by you: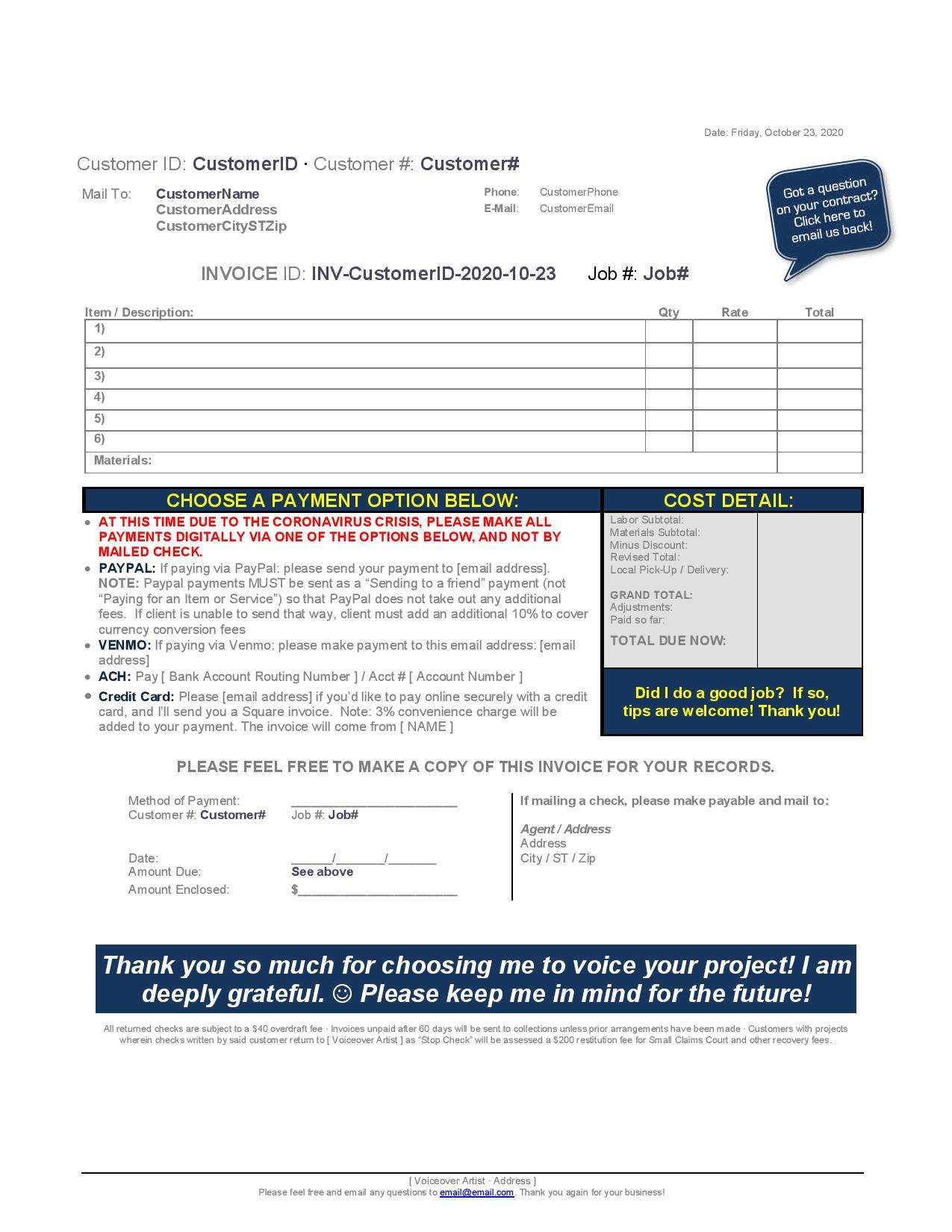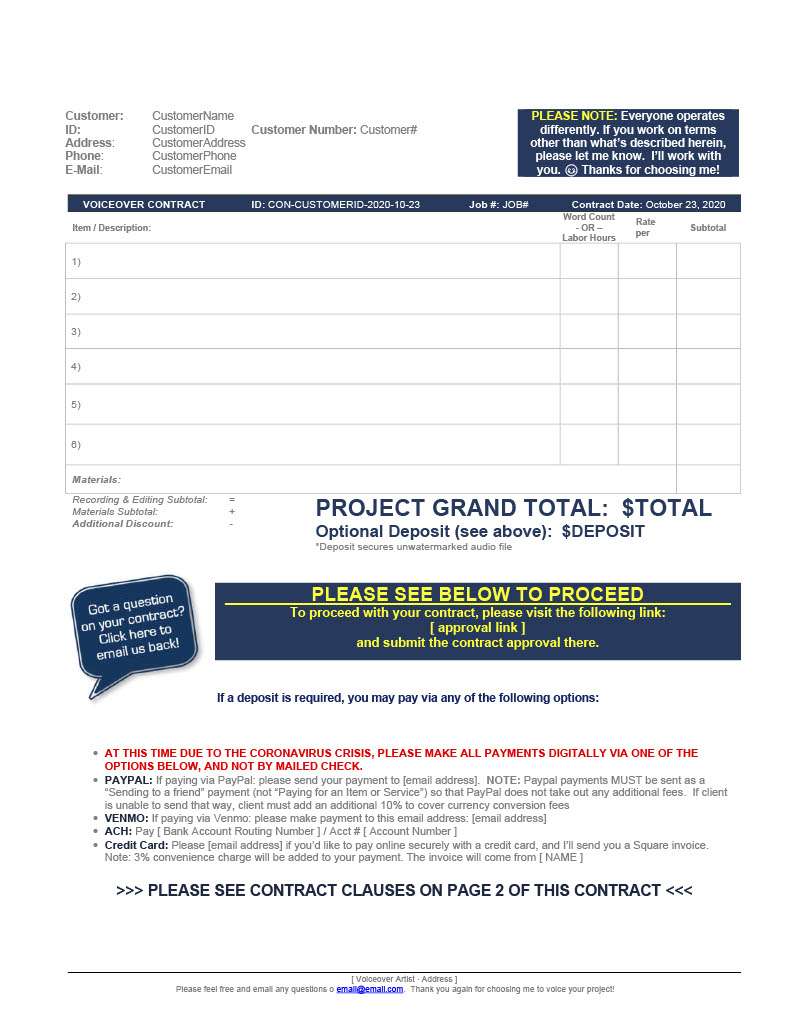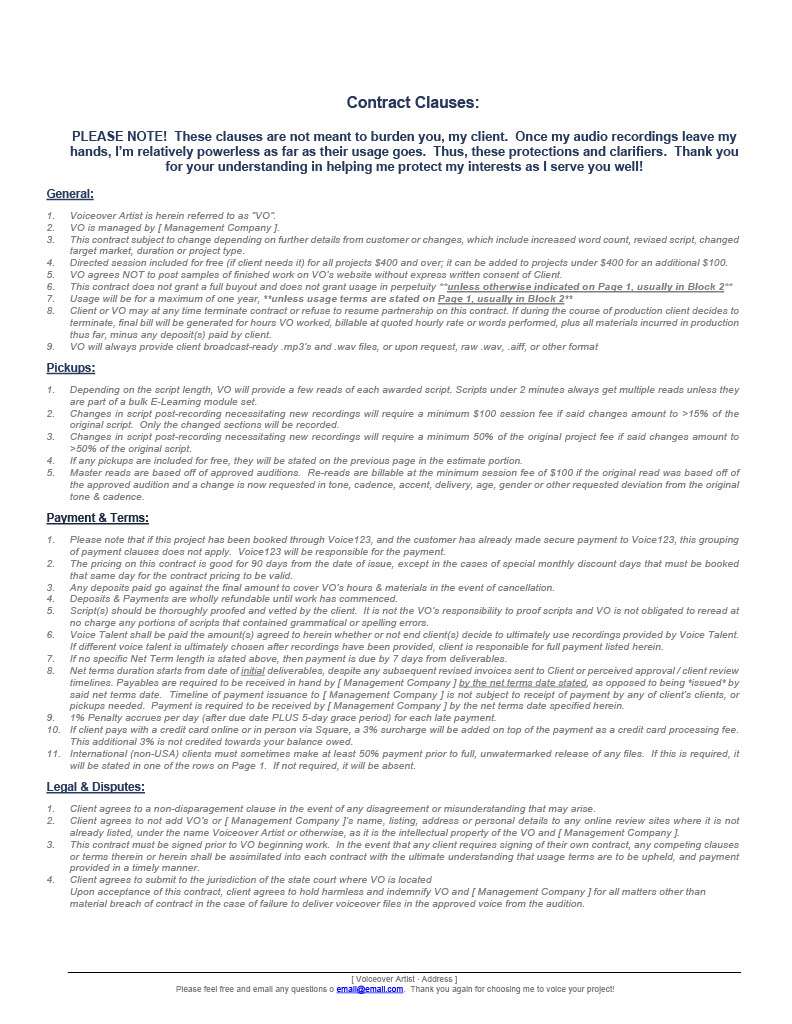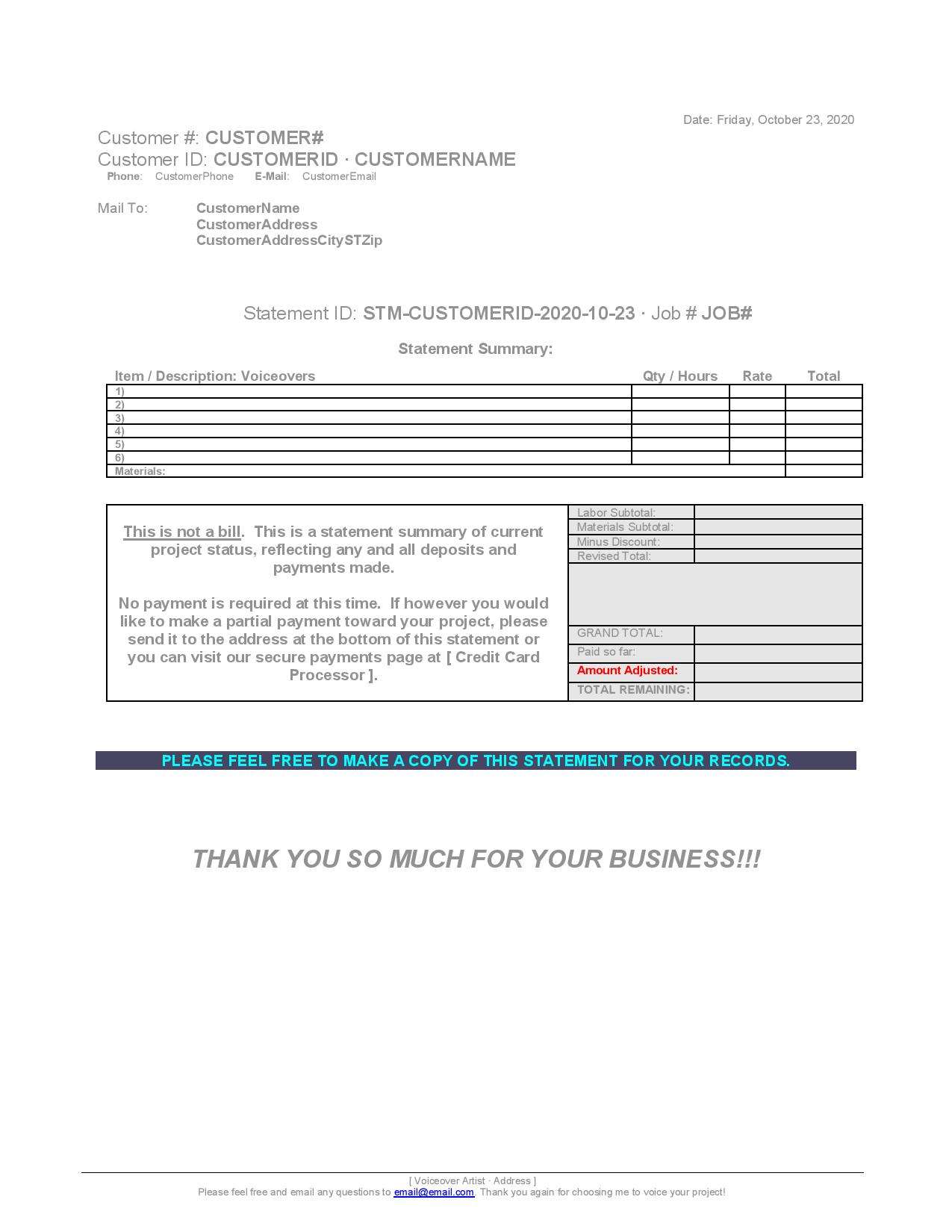 How to Buy Super Voiceover Docs
You can email me with any questions, or simply send $40 to me via Venmo to @Joshua-Alexander-Voiceovers, or ***as a friends/family payment*** via Paypal to [email protected] Please make sure to include a note what your purchase is for and who it's from, if your name and/or email address are in any way unclear.
Why do you need these?  Because quite simply they'll allow you to customize them with your own logo and/or letterhead, and have a professional representation to put out there to clients.  Coupled with my E-Book on "The Business of Voiceovers", you'll be equipped with some great knowledge to soup up your VO business in terms of professionalism.
#youcandothis